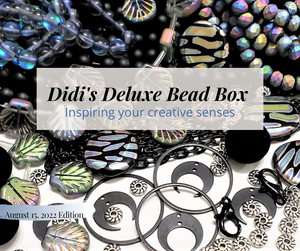 ** ATTENTION ERROR **
The item >>  6pcs 18mm Jet Zebra Striped Peacock Vitrail Czech Glass Beads** calls for 6pcs.. it should be 5pcs.  
Didi's Deluxe Bead Box August 2022 Edition       
Theme: Celestial Show
We invite you to sit back and experience nature's most captivating atmospheric phenomenon. We present, our Canadian Northern Lights better known as "Aurora Borealis" 
Admire the dancing waves that flicker through the night while it lights up the sky with beautiful rainbow palettes. Since each spectacular light show is unique, we had to include several extraordinary beads and elements for you to create your own favorite Aurora Borealis Jewelry piece. 
Materials include..
15" 6mm Smooth Matte Black Glass Beads (approx.65pcs)
7.5" 8mm Smooth Matte Black Glass Beads (approx.25pcs)
8" 8mm Frosted Black Round Glass Beads (approx.28pcs)
7.5" 6mm High-Quality Mystic Aura/Moonstone Beads (approx.30pcs)
17" 6x4mm Matte Titanium Faceted Crystal Rondelles (approx.100pcs)
5pcs 18mm Jet Zebra Stripped Peacock Vitrail Czech Glass Coins
6pcs 14x10mm Rainbow Iris Shell Glass Beads
1yd/36" 2.5x2.5mm Black Stainless Steel Cable Chain
2pcs 14x7mm Black Plated Lobster Clasps (each clasp has been tested)
1pc 26mm Black Oxidized Brass Ring
2pcs 14mm Black Oxidized Brass 2-hole Crescent Moon
2pcs 15mm Black Velvet Earring Ball/Drops
30pcs 6mm Antique Silver Textured Wheel Spacers
BONUS: 20pcs 8mm Pressed AB Crystal Czech Glass Stars   
I hope this month's edition has inspired you…Happy BEADING!! 
Total Qty Avalaible :
0