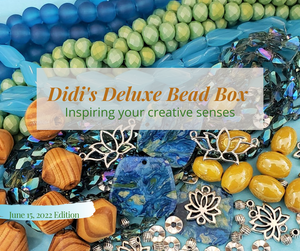 Didi's Deluxe Bead Box June 2022 Edition      
Theme: Tranquil Moments
Need to escape?? sit back, close your eyes, and breathe in deeply. Imagine yourself surrounded by nature's paradise with cascading waterfalls and towering mountains. Balance your mind in this sanctuary of peace and tranquility with cool tones of aqua greens, natural wood, and a lotus that symbolizes strength and resilience towards the hustle & bustle of everyday life.  
Materials include..
10" 7x5mm mystic blue rainbow triangle faceted crystals (approx 40pcs)
8.5" 8x6mm 2-tone matte succulent green faceted crystal rondelles (approx.35pcs)
7.5" 8mm frosted Azur blue glass beads (approx.25pcs)
6" 15x9mm twisted opaque sky-blue Czech glass beads (approx. 10pcs)
4pcs 15mm polished olive wood lantern beads
6pcs 14mm handcrafted ochre yellow-olive shape ceramic beads (shape, size, and color may slightly vary)
25pcs 8mm Tibetan silver wavy disc spacers
25pcs 4mm Tibetan silver melon spacers
2pcs 15x13mm Tibetan silver lotus connectors
1pc 25x14mm Tibetan silver lotus pendant
BONUS: A 1pc 25x22mm marbled resin component   
I hope this month's edition has inspired you…Happy BEADING!! 
Total Qty Avalaible :
0