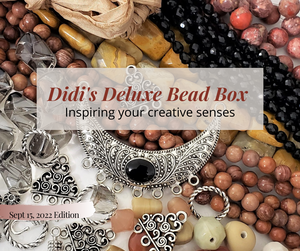 Didi's Deluxe Bead Box Sept 2022 Edition      

Theme: The Sahara Desert
Our September Edition will take you on a trip far away into North Africa to visit the Sahara Desert's breathtaking scenery. 
With soft neutral tones from pale pinks and sandy beige to sunset reds, create a Saharan design adding hints of black to the dancing chandeliers.
Materials include..
6.5" 15x12mm Natural Crazy Lace Agate gemstones (10pcs)
7.5" 8mm Red Coral Brecciated Jasper (approx.23pcs
7" 6mm Natural Red Line Jasper (approx.30pcs)
9" 4mm Black Strawberry Shape Faceted Crystals (approx..50pcs)
15pcs Smokey Grey Chunky Glass Beads
35pcs Desert Sand Indian Glass Mix
4pcs 10mm Smokey Grey Crystal Bell Caps
1pc 60mm wide Antique Silver w/Black Onyx Chandelier Pendant
4pcs 20x18mm Antique Silver Fancy Swirl Chandelier Connectors
2pcs 10mm Antique Silver Twisted Soldered Rings
30pcs Antique Silver Filigree Flower Bead Caps
1yd/36" "Sand" Sari Silk Ribbon
BONUS: 1 set of Fancy Hook Clasps
 I hope this month's edition has inspired you…Happy BEADING!! 
Total Qty Avalaible :
0