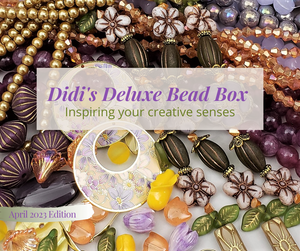 Didi's Deluxe Bead Box April 2023 Edition      
Theme: Crocus Blooms
Spring has arrived and so have the beautiful Crocus & Spring
blooms. This month, we bring you a unique color palette of
oranges, yellows, and purples, a wonderful tease to welcome
the warmer weather ahead.
Materials include..
Crocus Blooms-themed "INSPIRE by Czechs" Designer Strand
7" 8mm Plum Jade Gemstone (approx. 22pcs)
7.5" 8mm Mystic AB Lavender (approx. 25pcs)
7" 8mm Diamond Cut Periwinkle Cats Eye Beads (approx. 22pcs)
9.5" 6mm Opaline Yellow Purple Painted Glass Beads (approx. 43pcs)
16" 4mm Gold Silk Glass Pearls (approx. 110pcs)
14" 4mm Mystic AB Hyacinth Bicones (approx. 90pcs)
1pk Assort Shape and Size Bead Mix
10pcs 20x10mm Purple w/Gold Wash Melon Saucers
10pcs 10mm Ovaline w/Gold Wash Czech Glass Leaves
1pk Spring Crocus & Flower Mix
10pcs Mystic AB Hyacinth Lucite Flower Bells
1pc 32mm Gold Iron Crocus Blooms Pendant
2 Sets 14k Gold Plated Ear-wires
BONUS: 1pc 20mm Natural Dried Pressed Flower Connector
 I hope this month's edition has inspired you…Happy BEADING!! 
Total Qty Avalaible :
0