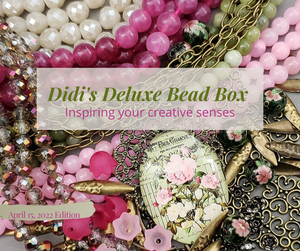 Didi's Deluxe Bead Box April 2022 Edition      
Theme: Vintage Bouquet
With Mother's Day celebration fast approaching, we wanted to curate a special edition to honor all mothers near & far, from soft tones to rich pinks and hues of greens, we thought this Vintage Flower theme would fit the occasion just.. PERFECTLY!!
Materials include..
10" 8mm strawberry shape 2-tone taupe faceted crystals (approx.35pcs)
7" 8mm smooth strawberry quartz (approx. 22pcs)
7" 6mm smooth pink chalcedony jade (approx. 30pcs)
7" 6mm smooth green Taiwan jade (approx. 30pcs)
8" 6x4mm electroplated gold fuchsia faceted crystals (approx. 43pcs)
1pc 40x30 vintage bouquet cabochon
30pcs 10x6mm 2 pink tones lily of the valley Lucite flower bells
1pc 50x40mm antique brass filigree component
4pcs 20x13mm antique brass filigree heart design connectors
12pcs 5mm antique brass rhinestone rondelles
10pcs 15mm x 1mm hole antique brass curved tubes
12" 6x4mm antique brass soldered cable chain
12pcs antique brass star design iron drops
BONUS: 3pcs 8mm floral print on evergreen glass beads
I hope this month's edition has inspired you…Happy BEADING!! 
Total Qty Avalaible :
0