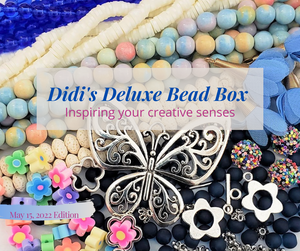 Didi's Deluxe Bead Box May 2022 Edition      
Theme: Seasonal Bliss
Inspired by Spring & Summer Seasons and everything else that comes with it… the sunny blue skies, flower beds blooming, rainbows shining, and butterflies flying. We bring you a box filled with fun vibrant colors and textures with a little contrast as a reminder to enjoy these outdoor beauties with family & friends.
Materials include..
12" 8mm Alashan rainbow agate beads (dyed) (approx.. 40pcs)
8" 8x5mm antique white volcanic lava rondelles (approx 35pcs)
7" 6mm white checkered polymer clay heishi discs. (over 200pcs)
6" 6mm smooth royal blue translucent glass beads (approx..30pcs)
5.5" 6mm frosted Prussian blue glass beads (approx. 25pcs)
1pc 49x55mm antique silver butterfly pendant
12pcs/6pairs 9.6mm assort color polymer clay flower beads
25pcs 6mm antique silver filigree bead caps
5pcs 15mm antique silver flower shape frames  
1 set 20x16mm antique silver flower toggle claps
4" Best Seller antique bronze diamond-cut hematite spacers (approx. 65pcs)
1 pair 30mm sky blue chiffon w/antique bronze flower drops
BONUS: 1 pair 12mm fancy rainbow sequins beads
I hope this month's edition has inspired you…Happy BEADING!! 
Total Qty Avalaible :
0