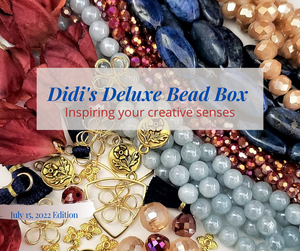 Didi's Deluxe Bead Box July 2022 Edition      
Theme: Summer Romance
Inspired by one of the most beloved Romance movies…"The best love is the kind that awakens the soul, and makes us reach for more, plants a fire in our hearts and brings peace to our minds".   Can you guess the movie??
In this month's theme, we bring you rich tones of blues, burgundy, and reds to symbolize the unforgettable Summer Romance that bloomed with intense  passion and love.
Materials include..
8" 20x10mm Natural Lapis Lazuli Marquise Shape Gemstone (10pcs)
7.5" 6mm Natural Blue Angelite Gemstone (approx.30pcs)
8" 8x6mm Faceted 2-tone Champagne Crystal Rondelles (approx.30pcs)
14" 4mm Faceted Mystic Wine Crystals (approx.100pcs)
10pcs 8mm Faceted Mystic Wine Strawberry Shape Crystals
8pcs 10mm Faceted Center Cut Champagne Crystals
2pcs 25mm Red Wine Flower Tassels
2pcs 20mm Navy Blue Cotton Tassels
3pcs 20mm Stainless Steel Curved Triangle Components
4pcs 17x10mm Antique Gold Floral Coin Connectors
3pcs 15mm 18K Gold Plated Brass Wired Floral Charm/Connector
25pcs Antique Gold 4 Point Leaf Bead Caps
BONUS: 1pc Antique Brass Floral Toggle Clasp 
I hope this month's edition has inspired you…Happy BEADING!! 
Total Qty Avalaible :
0