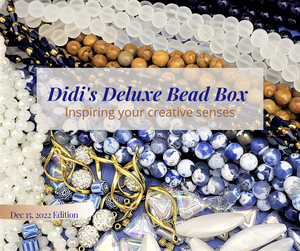 Didi's Deluxe Bead Box December 2022 Edition      
Theme: Winter Escape
Imagine...After a day of cross-country skiing or just strolling through mountain trails, you get ready to cozy up in a warm winter cabin, then comfortably sit back to stare and enjoy the sounds of the crackling fireplace while sipping on hot chocolate or hot apple cider reminiscing what the year 2022 has brought you.
I like to take this opportunity to wish you all a Warm and Cheerful Holiday Season. May the New Year 2023 Bless you with New Adventures, Good Fortune, most importantly Peace, Health & Love  .. CHEERS!!  
Materials include..
15" 8mm Blue White Mix Fire Agate Gemstone (approx.50pcs)
15" 8mm Frosted White Glass Beads (approx. 50pcs)
8" 8mm Wood Jasper Gemstone (approx.23pcs)
7" 8mm Egyptian Blue Glass Beads (approx. 25pcs)
14" 6x4mm Egyptian Blue w/Bronze Faceted Teardrop Crystals (approx. 48pcs)
17" 6x4mm Opaque White AB Crystal Rondelle (approx. 90pcs)
20pcs 15x12mm Irregular Ice Beads
8pcs 15x14mm AB Triangle Glass Beads
8pcs 30x10mm Marbled White Elongated Retro Lucite Beads
5pcs 6x6 Stripped Blue/White Chevron Lampwork Beads
2pcs 10mm White Polymer Clay Micro Pave Disco Beads
30pcs 4mm Tibetan Gold Ribbed Beads
BONUS: 1pc 30mm Gold Plated Swirl Component
I hope this month's edition has inspired you…Happy BEADING!!  
Total Qty Avalaible :
0