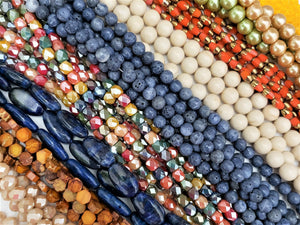 What's in our DELUXE Mystery Bags??
Didi's DELUXE Mystery Bag is our Crème de la Crème (our very best) of "BEAD" Supplies. You will receive an abundance of high-quality, hard-to-find and overstocked bead supplies such as Gemstones, Crystals, Lampworks, Pearls, Ceramic, Corals, Fancy Glass, Vintage Acrylics, Indian Glass, Designer Strands and more in half and/or full strands valued anywhere between $75 to $95.00. Each Deluxe Mystery Bead Bag may include anywhere from 18 to 22 strands in total.
We have searched all over to bring you unique beads that are sure to please and get your creative ideas flowing. Some beads found in our DELUXE Mystery Bag are EXCLUSIVE and may not be sold individually through our website. So if you are a HUGE Fan of Surprises, this is the Mystery Bag for YOU.  GUARANTEED NOT to DISAPPOINT and a Great Way to Build your Stash too !! 
Have a YouTube Channel??  Share with your viewers and link the video to our Didi Beads VIP Group to receive $5.00 Off on your next DELUXE Mystery Bag purchase. 
 ** Be Sure to TAG ME **  www.facebook.com/groups/didibeadsndestash
Our DELUXE Mystery Bags are made in batches of 10-15 at a time and WILL ALWAYS BE AVAILABLE…So visit often!! 

Please note:  Because each DELUXE Mystery Bag contents will vary, a detailed listing will not be included and may be packaged in baggies and/or by strands.
** Image is for promotional purposes only **
Total Qty Avalaible :
13