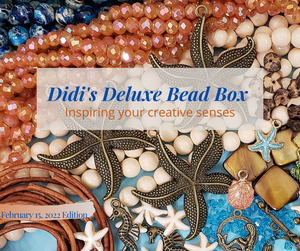 Didi's Deluxe Bead Box February 2022 Edition 
Theme: Tropical Getaway
Feeling the winter blues?? leave the cold behind and wander off into a tropical getaway where you can enjoy the sunny cool breeze and warm sandy grains between your toes. Catch the breathtaking view of the blue horizon while the gentle ocean waves move inshore leaving behind a sea of seashells to admire.
Bring those dreams into reality by creating a memorable beach theme jewelry piece using these cool and warm tropical seaside palettes.
Materials include..
16" full strand 8mm Aqua Blue Sea Sediment Jasper Dyed (50pcs)
17" full strand 6x4mm Mystic AB Peach Coral Faceted Crystals (90pcs)
8" strand 8mm Cream Riverstone/Fossil Jasper (25pcs)
7" strand 4mm faceted Aqua Glass Bicones (50pcs)
36"/1yd #409 2mm Soft Natural Distressed Light Brown Leather Cord
6pcs 15mm Golden Brown Square Shell Beads
6pcs 14mm Cream Magnesite Starfish
12pcs 9x4mm Carved Coconut Wood Rondelles  
1pc 50mm Antique Brass Star Fish Pendant
1 set Antique Brass Mermaid Toggle Clasp
1 pair 25mm Double Sided Antique Brass Seahorse Charms/Drops
10pcs 18mm Brushed Bar Links/Connectors
BONUS: Assort Sparkling Enamel Seashell Charms
I hope this month's edition has inspired you…Happy BEADING!! 
Total Qty Avalaible :
0