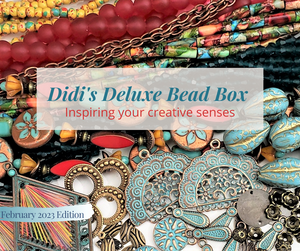 Didi's Deluxe Bead Box February 2023 Edition 

Theme: Gypsy Caravan
Being of Hungarian Gypsy descent, I've always been fascinated by the vintage and vibrant-colored Gypsy Style Caravans, I surely would have enjoyed the experience of traveling in them.
Let's take this journey together!!
Materials include..
Gypsy-themed "INSPIRE by Czechs" Designer Strand
9" Irregular Shape Tumble Turquoise Nuggets (approx. 20pcs)
15.5" 13x4mm Multi-Color Sea Sediment Cylinder Tubes (approx. 30pcs)
7.5" 8mm Frosted Red Glass Beads (approx.25pcs)
10" 4mm Speckled Turq/Red Mustard Yellow Glass Beads (approx..65pcs)
16" 4mm Faceted Turquoise Red Crystal Mix (approx.120pcs)
15.5" Faceted Dark Teal Crystal Bicone (105pcs)
18" 6x4mm Antique Copper Chain
1pc 37x30mm Antique Copper w/Patina Wash Chandelier Pendant
3pcs 15mm Antique Copper w/Patina Wash Starburst Charms
6pcs 18x6mm Antique Copper w/Patina Wash Teardrop Charms
1pc 35mm Antique Copper Curved Tube Bracelet Spacer
20pcs Fancy Antique Brass Bead Caps
1pk Antique Brass/Copper Iron Charm Mix
6pcs 18x10mm Vintage Turquoise Melon w/Gold Swirl Teardrops
BONUS: 2pcs 60x30mm Antique Copper w/Patina Wash Multi Color Weave Rhombus Component
I hope this month's edition has inspired you…Happy BEADING!!  
Total Qty Avalaible :
0