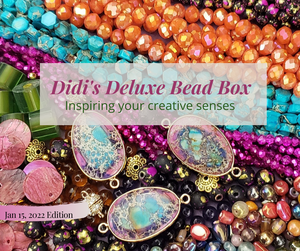 Didi's Deluxe Bead Box January Edition 2022 
Theme: Bollywood
Inspired by the vibrant and colorful tapestry, catch a glimpse of the colors that symbolize the rich diversity and enchanting beauty of India.
Materials include..
8" 6mm turquoise hexagon Sea Sediment/Jasper beads (30pcs)
8" 8mm deep violet w/gold foil glass beads (25pcs)
15" 6mm magenta w/gold foil glass beads (70pcs)
16" 4mm electroplated magenta faceted crystal rondelles (approx. 125pcs)
8" 8x6mm super shine tangerine faceted crystals rondelles (33pcs)
6.5" 6mm topaz glass beads (25pcs)
6.5" 6mm purple glass beads (25pcs)
10pcs 10-12mm Indian made stripped green glass cane beads
12pcs 15mm dyed fuchsia mussel shells
40x20mm multi-colored Sea Sediment/Imperial Jasper bezel connector
2pcs gold plated filigree chandelier components.
20pcs 10mm fancy gold plated bead caps
30pcs 4mm gold plated round spacer beads
1pc rhinestone magnetic clasp.
BONUS: Multi-colored Indian glass bead mix/ Best Seller sample pack
I hope this month's edition has inspired you…Happy BEADING!! 
Total Qty Avalaible :
0