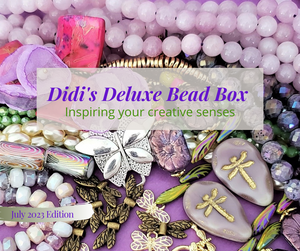 Didi's Deluxe Bead Box July 2023 Edition

Theme: What Am I??
I am one of the fastest insects in the world, capable of flying at speeds up to 60 miles per hour. I am delicate and known for my aerial acrobatics and vibrant colors. I am carnivorous with a unique hunting technique and catch my prey using my strong jaws… Can you guess "WHAT AM I" without looking at the contents??
Materials include..
 ????? "INSPIRE by Czechs" Designer Strand
15" 8mm Light Grape Jade Semi Precious Stone (approx. 48pcs)
7.5" 6mm Galaxy Tiger Eye (approx. 30pcs)
5" 8mm Titanium Coated Pansy Purple Faceted Druzy (15pcs)
9" 6X5mm Twisted Ivory Vintage Glass Pearls (approx. 25pcs)
7" 8x4mm Purple Pink Tone Faceted Crystal Rondelle Mix (approx. 35pcs)
15" 4mm Mystic Chartreuse Faceted Crystals
5.5" 8mm Metallic Gold Plated Hematite Wavy Disks (approx. 75pcs)
8pcs 18x10mm Metallic Rainbow Barrel Beads
4pcs 22x20 Gold Drizzled Fuchsia Acrylic Beads
1 set Lavender Chiffon w/Crystal Earring Tassel
1pcs 30x35 Antique Silver ????? Bracelet Slider/Connector
6pcs 20mm Antique Brass ????? Connector
2pcs 18x14mm ????? Charms
2 sets High-Quality Gold Stainless Steel & 14k Gold Plated Ear Wires
BONUS: 1pc Antique Gold ????? Toggle Clasp
I hope this month's edition has inspired you…Happy BEADING!! 
Total Qty Avalaible :
0