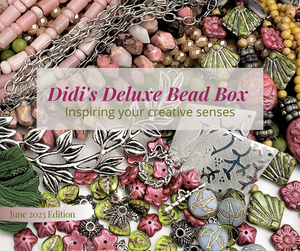 Didi's Deluxe Bead Box June 2023 Edition  

Theme: Enchanting Dance of Cherry Blossoms
Are you up for a little Beading or Wire-wrapping challenge??
This month's edition includes one of my favorite combinations of rich tones of pink & greens. Even though Spring is nearing its end, it's never too late to create a charming wearable art piece inspired by Cherry Blossoms.
Materials include..
Cherry Blossom themed "INSPIRE by Czechs" Designer Strand
5" Genuine Black Lace Rhodonite Freeform Rondelles (approx. 20pcs)
7.5" Natural Pink Opal Tube and Rondelle Mix (approx. 30pcs)
15" 6mm Matte Peridot Green Jade (approx. 64pcs)
15" 4x6mm Super Shine Beige Faceted Crystals (approx. 90pcs)
16" 4mm Matte Ochre Yellow Faceted Crystals (approx. 120pcs)
50pcs 4mm Olive Green Nebula Czech Cubes
15pcs 9x9mm Olive Green w/Gold Wash Top Drilled Czech Leaves
12pcs 10x10mm Silk Cherry Pink Czech Flower Cups
4pcs 12mm Light Powder Blue Gold Wash Czech Bird Coin
20pcs 6mm Champagne Luster Mushroom Button Czech Beads
1pc 85mm Antique Silver Leafy Tree Branch Connector
2pcs 34x45mm Silver Plated Textured Diamond Shape Charms
2pcs 22x10mm Antique Silver Bird Charms
1pk Assort Antique Silver Leaf Bead Caps (approx. 45pcs)
1yd 5x4mm Antique Silver Oval Cable Chain
1pc 36" Olive Green Fairy Ribbon
BONUS: 1pc Antique Silver Leaf Toggle
I hope this month's edition has inspired you…Happy BEADING!! 
Total Qty Avalaible :
0