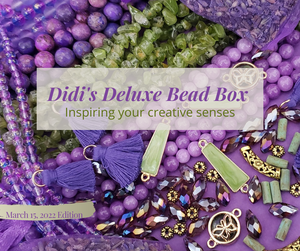 Didi's Deluxe Bead Box March 2022 Edition                
Theme: Lavender Fields
Ever visited a lavender field?? Let's take a stroll through the landscape and admire a spectacular view and the beauty of blueberry and lavender tones while we breathe in the therapeutic aromas of serenity.
Materials include..
9" 5-8mm smooth natural peridot freeform nuggets (approx. 50 to 58pcs)
7.5" 8mm blueberry lavender brecciated jasper (approx. 20pcs)
7" 6mm smooth natural lavender jade (approx. 30pcs)
7" 6mm semi-frosted blue lavender w/gold foil beads (approx. 30pcs)
7.5" 4mm semi-frosted blue lavender w/gold foil beads (approx. 50pcs)
12pcs 10x5mm electroplated topaz teardrop faceted crystals
10pcs 9x4mm aged matte turquoise green Picasso Czech tubes
3pcs 30mm peridot green enamel trapezoid shape connectors
1pc 20mm peridot green glass w/butterfly connector
1pc antique gold flower design curved tube
25pcs 6mm antique gold textured edge spacers
2pcs 20mm purple tassels
BONUS: This theme wouldn't be complete without a Lavender Scented Sachet, if you are allergic to natural scents, this will make a wonderful gift for any Lavender Lover (for a lasting fragrant, add a few drops or spray pure essential lavender oils)
 I hope this month's edition has inspired you…Happy BEADING!! 
Total Qty Avalaible :
0