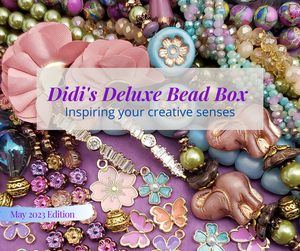 Didi's Deluxe Bead Box May 2023 Edition                                                  
Theme: A Taste of Summer
We bring you an edition bursting with bright and vibrant hues of endless fun, igniting our sense of energy and excitement and inspiring us to fully embrace and enjoy the season ahead.
Materials include..
A Taste of Summer-themed "INSPIRE by Czechs" Designer Strand
15" 8mm Violet Mosaic Sea Sediment Jasper (approx. 50pcs)
13" 6x4mm 2-Tone Faceted Champagne Crystal Mix (approx. 75pcs)
7.5" 8x9mm Mystic Powder Blue Glass Barrels (approx. 20pcs)
4.5" 6mm Sage Glass Pearls (approx. 35pcs)
15" 2mm Variegated Unicorn Crystal Mix (approx. 180pcs)
14" 2x3mm "A Taste of Summer" Mystic Crystal Mix (approx. 195pcs)
20pcs 6mm 1-Sided Purple Iris Czech Flower Beads
10pcs 15x11mm Mystic Moss Glass Teardrops
10pcs 8x9mm Fancy Tibetan Gold Lantern Spacers
3 Sets Assort Butterfly Charms
3 Sets Assort Flower Charms
1 Set Dusty Rose Silk Flower Tassel
1pc 3" Azure Blue Silk Tassel
2 Sets 14K Gold Plated Ear-wires
BONUS: 1pc 38mm 14k Gold Plated Cubic Zirconia Connector
 I hope this month's edition has inspired you…Happy BEADING!! 
Total Qty Avalaible :
0