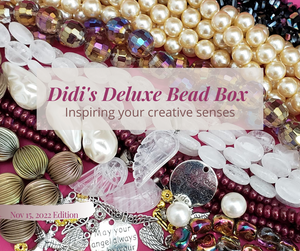 Didi's Deluxe Bead Box November 2022 Edition  
Theme: Guardian Angels  
As we slowly get into the holiday spirit, it is the perfect time to begin creating gift-giving and home decor angel charms and crafts.
 Although thoughts of angels appear mostly during the Christmas Season, I've curated a lovely vintage scheme using soft tones of cream, gold, pink, and white adding a pop of rich midnight blue rainbow and plum that will fit perfectly not only for the holiday seasons but for everyday wear reminding us that our Guardian Angels are with us all year round.
Materials include..
20" 8mm Silk Glass Pearls (approx.50pcs)
8" 15x10mm Natural Crystal Quartz (approx.14pcs)
7" 4x6mm Luster Coated Plum Glass Rondelle (approx.50pcs)
12" 4x6mm Mystic Midnight Blue Rainbow Triangular Crystals (approx. 105pcs)
10pcs 10mm Mystic Rainbow Twisted Glass Squares
1pc 30mm Natural Crystal Quartz Angel Wing w/stainless steel bail
2pcs 12mm Faceted Mystic Gold Rainbow Crystals
10pcs 15mm Vintage Fluted Rainbow Aluminum Beads
6pcs 30x15mm Vintage Carved Pearl Acrylic Teardrop (same bag)
4pcs 25x12mm Vintage Carved Pearl Acrylic Teardrop  
10pcs 10mm White Pearl Acrylic Beads
12pcs 12mm Silver and Gold Tone 4 Point Bead Cones
20pcs 6mm Silver & Gold Tone Rhinestone Spacers
8pcs 15x10mm Silver & Gold Tone Heart Center Angel Wing Connector
3pcs 30mm Silver Filigree Angel Wing Connector
4pcs 20mm Closed Angel Wings Connector
3pcs 20x20mm Silver Angel Charms
BONUS: 1pc 22mm "May your angel always be by your side" Tibetan Silver Charm/Pendant
I hope this month's edition has inspired you…Happy BEADING!!
Total Qty Avalaible :
0