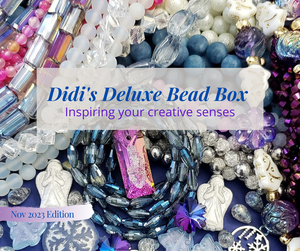 Didi's Deluxe Bead Box November 2023 Edition 
Theme: Fuchsia Frost
The Holiday Season is fast approaching and we're
getting a head start with a modern style palette.
We've chosen icy silver with cool blues adding a
vibrant burst of festive fuchsia and purples for
a touch of winter wonder!!
Materials include..
Fuchsia Frost themed "INSPIRE by Czech" Designer Strand
15" 8mm Old Denim Matte Jade (approx. 45pcs)
15.5" 8mm Textured Pearl White Glass Beads (approx. 55pcs)
9" 10x5mm Mystic Blue/Purple Square Barrel Beads (approx. 20pcs)
15" 6mm Half Silver Crackled Quartz Beads (approx. 65pcs)
17" 6x4mm Fuchsia Frost Opaline Crystal Mix (approx. 95pcs)
12" 8x4mm Montana Blue Crystal Oval Barrels (approx.35pcs)
14.5" 4mm Fuchsia Agate (dyed) (approx.95pcs)
5" 12x9mm Ice Blue Triangular Glass Barrels (approx. 10pcs)
14" 4mm Mystic Metallic Purple Crystal Hexagon Cubes (approx. 105pcs)
7" 8mm Clear AB Side Drilled Crystal Cubes (approx.25pcs)
7" 6mm White Opaline Glass Beads (approx.30pcs)
15pcs Crackled AB Side Drilled Crystal Czech Teardrops
1pc 20mm Ice Blue Snowflake Czech Cabochon
1pc Matte White w/ Silver Wash Czech Angel Bead
4pcs 15x16mm Ice Blue Christmas Tree Beads
2pcs 20mm Mystic Blue/Purple Snowflake Crystal Drops/Charms
5pcs Silver Plated Snowflake/Garland Charms
1pc Rhodium Plated CZ Pave Bail
BONUS: 1pc. Fuchsia Frost Crystal Geode/Druzy Rectangle Pendant
I hope this month's edition has inspired you…Happy BEADING!! 
Total Qty Avalaible :
0